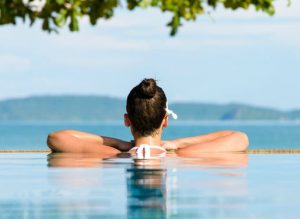 When was the last time you sat and just stared out a window at the world going by? You know daydreaming. I want to touch on the topic of creativity because this weekend during the Body Mind Spirit Fair David and I offered tarot card readings. A theme emerged from the readings we did. "I am retired and have no idea what to do with my time?" "I am dissatisfied with my current career path and want to do something different." "I have lots of ideas, and I am not sure which one to pursue?" Do any of these resonate with you?
The individuals expressing these desires and challenges felt lost and overwhelmed. In each conversation/reading, it took only a few moments of dialogue to find out what that person enjoyed, and in many instances, a simple action could move them forward on a path to realize their desire. Stepping into a heart-centered way of living is very easy when we let our creativity shine thru. The best and most accurate gauge of what is in alignment with you is checking in with what makes you FEEL GOOD. The challenge or block is that we have little to zero social permission to try new ideas out. Explore them and then check in with ourselves and notice what we enjoy. Our social conditioning is filled with inaccurate beliefs based on obligation and social expectations that have nothing to do with what we enjoy or our natural talents. The experience when we try to step out of these beliefs is feeling overwhelmed, frustration and maybe even depressed because we are trying to be someone we are not. It is like we are actors in our lives instead of the play writes of our lives.
How to being the process of knowing who you are? Keep it simple and always ask what brings joy into your life and what do you excel at?
It all starts with a better relationship with your creativity.
How about this simple exercise next time you catch yourself shutting down a creative idea: Blasting through blocks! For example. You have an idea that inspires you. But you are frozen to take action. Sit down and write down all of your anger, fears, limits and influences that stop you from going for it. The simple act of giving the space and time to yourself to explore the shadow side of the " I can't" will shed plenty of light on what a next step could be to break free of old habits. The light brings truth and clarity.
When you hear the voice in your head say "NO" and then give lots of logical reasons to justify. Accept all of the information and then give yourself permission to daydreaming. To ponder what doing the idea might include and feel like. Remember there is no risk. You still have taken no action. It is all in your head. This is an excellent way to open up to your creativity and to explore who you are.
At Yoga of the Mind, our mission is to provide a safe place to explore who you are at your pace. We offer a program that cultivates and develops your ability to listen to your intuitive voice which is more generally known as your creativity. Creativity, artistic pursuits, and intuition are all coming from the same place. This place I reference is you channeling the consciousness of the universe which is being uniquely expressed thru you? This is creativity aka intuition.
Here is a link to a scientifically created questionnaire that will evaluate your creativity competencies. The feedback will allow you to change specific behaviors that will build and expand your ability to be creative no matter where you are now.
You are going to hear us talking more and more at Yoga of the Mind about how our social and economic models are changing today. One of the very first steps for us to enjoy this transformation is to learn who we are and begin to express our joy and uniqueness via our creativity.
Check out the evaluation. I would love to hear back from you. Comments, questions. Let's get the dialogue going. The first step to transformation and consciousness is awareness. Click here to visit the creativity evaluation page.
Visit our creativity and intuition building classes under the menu drop down above  "Events | Classes."