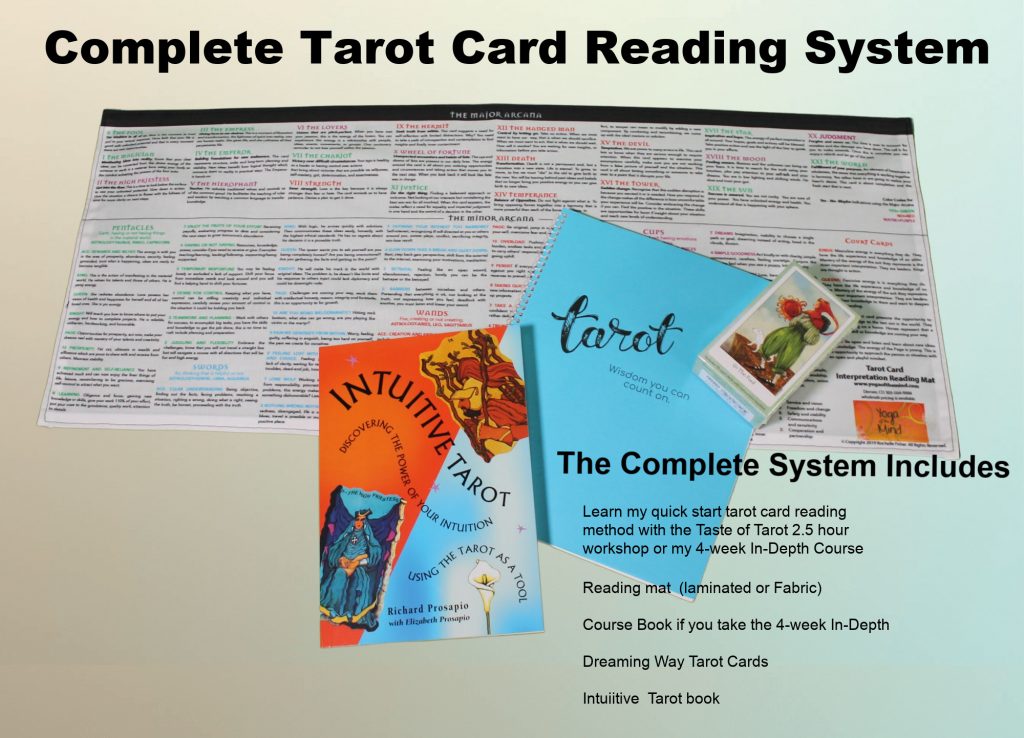 Gain the Wisdom of the Tarot Cards with my
4-week In-Depth Tarot Card Reading Course.
Do some of these sound like you?
You have had a deck of tarot cards for many years and always wanted to learn how to read them?
Maybe you even own multiple decks.
The idea of memorizing all those card definitions seems impossible!
Not to mention when you do try to study how to read tarot cards you feel very overwhelmed with how it all fits together to generate usable information.
During this 4-week course you will learn while having fun:
Learn how to use my Tarot Card reading mat and you will be trading readings with other students by the end of the first class.
No memorizing of card meanings.
During this class, you learn the overarching concepts behind the major and minor arcana to support the wisdom you can share during your readings.
You will learn how to develop questions that bring about actionable wisdom from the cards.
We will explore a variety of reading layouts and a few of my favorites.
You will have lots of in-class tarot card reading practice sessions with other students to build your confidence.
During our last class past students join us and you have new folks to trade readings with to test out your new skills in a real-world situation.
Learn to answer yes/no questions with the cards.
Learn how to answer questions around "when" something might happen.
Included in Your Registration:
This course includes four 2.5-hour classes conducted live  via Zoom or you can join me live.   I think we all learn best with a variety of learning tools plus I keep my class very interactive.
Reading Mat Options:
You can choose to receive a laminated sealed edge indestructible reading mat, or you can upgrade your registration to a reading mat printed on fabric.   Each format has its own benefits.  The laminated mat is indestructible but a little less easy to carry around.   The fabric mat is washable but is easy to fold up and place in even the smallest purse.  The fabric mat also comes with a nice black velvet bag that also holds a standard deck of cards.  Below you will choose the class date you want and then choose which mat works best for you.
Workbook:
You will also receive a course workbook.   It includes a summary of the information covered during the course, plus exercises and reading layout examples to help reinforce what you learn during each class.
This is not a pre-recorded class:
I teach every class live.  There is a connection that develops with each 4-week group and typically every class ends on a positive note with everyone trading contacting info and wanting to return for future reading trades and learning opportunities.
I ship out your workbook and mat within 24 hours of your registration.  If you register the day before you can add the $25 for overnight shipment of materials or you can go with my normal 2-3 days shipping time and wait until the next week's class to get your class items.   If you choose the waiting option I will send a PDF of the mat and the pages you will need from the workbook for the first class if you are registering too close to the first class date to receive the materials in time.
Reviews:
"Thank YOU for the class. Having known nothing about Tarot before taking your class, I leave the class with reliable tools that allow me the confidence to give readings as well as lay down the groundwork to study further on my own. The class was chock full of valuable information and thought-provoking discussion which was a bonus!" – Gina
"Great, introduction to Tarot! I loved the reading mat. It really helped to simplify things. I would take another class at the Yoga of the Mind." Stephanie J.
"Lots of information provided in this class! Rochelle clearly explained the meaning of each card, as well as the various ways to approach the cards. I really enjoyed the positivity she radiated and applied to her card readings. I am glad I purchased the optional reading mat she offered because it has been extremely helpful as I continue to hone my tarot reading skills." Rhonda T. 
"Learn to Read Tarot at Yoga of the Mind was a great introductory class. I enjoyed Rochelle's approach and the way she simplified the basics of tarot. I purchased her special mat and can't wait to practice reading on my family & friends." Claire H.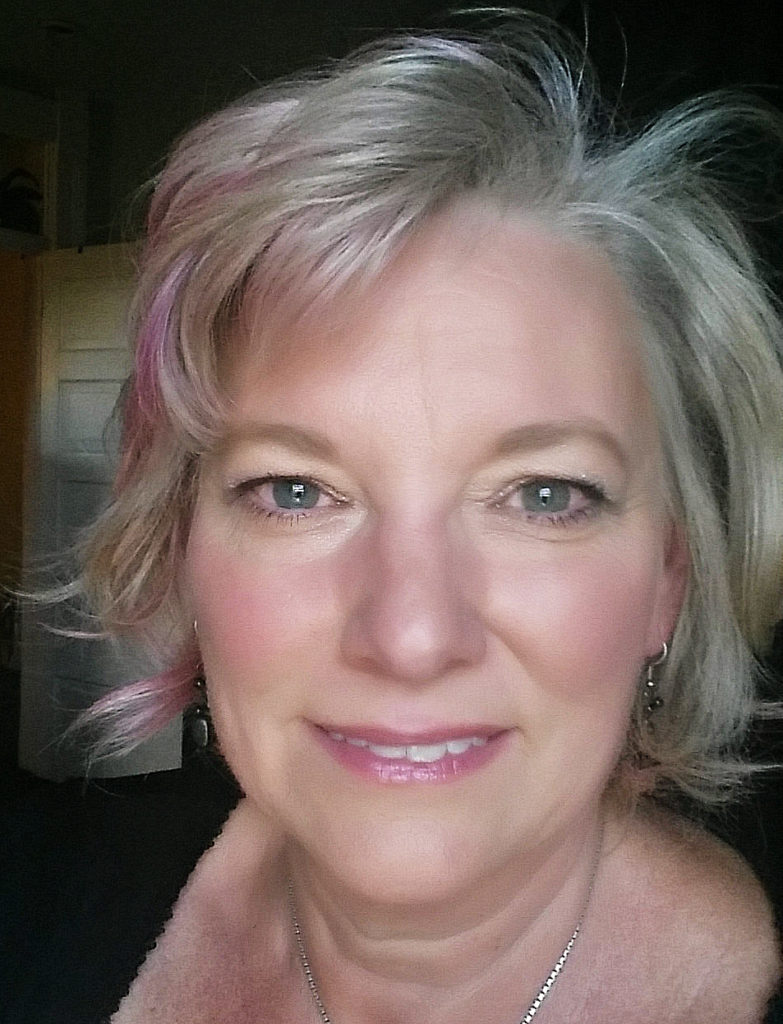 Hi, I am your teacher:
I have been giving tarot card readings for fun and professionally for 10 years, I had the inspiration to create the reading mat when I was a beginner because memorizing all the cards meanings was never going to happen.  I still use the mat in paid readings today.  It helps me to not stress if I get a card, I do not recall the meaning of during a session.   It makes my students feel like near experts after just one class.  I have been teaching others here in Denver CO at our Intuitive development school for 7 years and am now offering this online Zoom version
Watch this short video to see what the difference is between the two reading mats.  Below are also images that show the Tarot Card and Books you can order from me if you wish.   I offer a quick check out that includes everything you need.  Or you can design your own à la carte.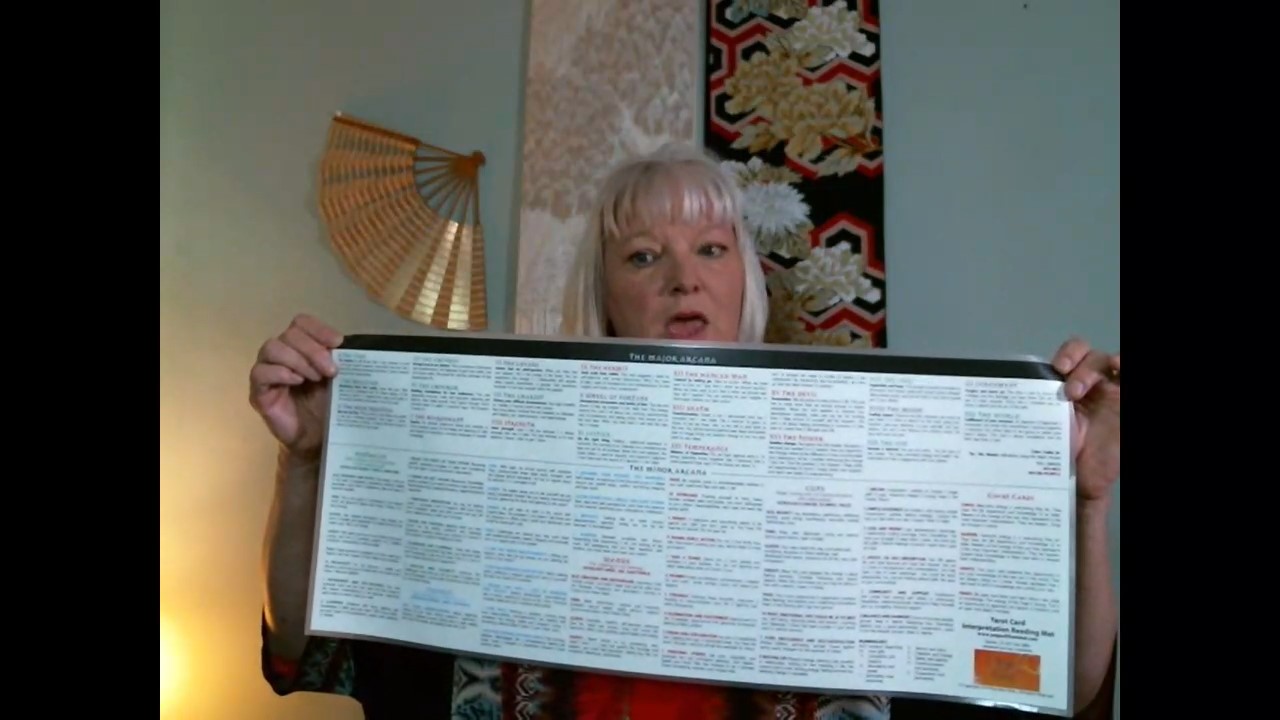 See both Tarot Reading Mat options
How to Order:
Choose your mat style after watching the video. 
if you need Tarot Card and/or a book I offer the two pictured below. 
Find the course start date that works best for you.
Then under the course date, you can choose the complete system Quick Check-Out option $165

 

You can also order all items via à la carte. 
Course $99  Includes course workbook.
Mats:  Laminated $25   Fabric with velvet bag $39
Cards $ 14.98 (See your options below)
Book $ 11.98
What to Bring:  You will need to bring your own set of Tarot Cards.
Contact Phone: 303-564-9884
rochellef@yogaofthemind.com