The reading mat I invented and is pictured below is the
secret to how you can learn tarot card reading quickly!
You can give yourself and friends readings after the first night of class. This course is perfect for beginner thru intermediate tarot card skills.  Learn Tarot today!

Here is what Gina recently said about the class. "Thank YOU for the class. Having known nothing about Tarot before taking your class, I leave the class with reliable tools that allow me the confidence to give readings as well as lay down the groundwork to study further on my own. The class was chock full of valuable information and thought-provoking discussion which was a bonus!"
We dive deep into how to use the reading mat, understanding the major arcane,  the overreaching meaning of the suits and the court cards,  Learn how to give yes/no answers and establish time frames.   Once you have completed the workshop, you feel very comfortable with the tarot.
Registration of $99 includes the  Special Tarot Reading Mat pictured above.
This class meets  for four weeks on the same day of the week during the same time frame.
Here is what we will cover during the 4 two hour sessions.  This workshop includes time for you to practice by trading readings with each other.
We review the use of the Tarot Card Reading mat.
Work on our in-depth understanding of the Major Arcane.
Techniques for helping the person you are doing the reading for to create meaningful questions.
Give each other 3 and five card readings in class.
Review of each of the four suits. Understand their overreaching meaning in a reading.
Lot's of practice session giving each other readings in class to build your confidence.
Learn to answer yes/no questions with the cards and establish time frames.
Review of the court cards to understand their overreaching meaning in a reading.
During the final class, we will give each other readings using Celtic Cross.  Past Students are invited to attend this final class so you will have new people to trade readings with.

Registration of $99 includes the  Special Tarot Reading Mat.   You will need to bring your deck of  Tarot cards.
Discounts:
If you already purchased a mat you can use discount code "mat" at checkout and $25 will be deducted from your cart.
If you are repeating the class for a second time you can choose the $25 option to retake the class.  If you are bringing a friend they get a discount too!  Use discount code "friend" at check out and $25 will be deducted from your cart at check out.
Here are other recent students said about this class-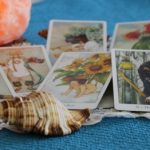 "I am a professional psychic. People pay me to tell them what I see in current life. I have been working with the Tarot for years.  Every once and a while I will take a class on the Tarot.  When I saw this class, I had a feeling that it was different, so I signed up. Boy, was I surprised!  I had never been introduced learning to read the Tarot this way.  It was about 1000 times easier than I had ever been introduced to.  Most of the Tarot class I had taken in the past, were boring and told you to read four books and memorize the cards. This class was completely different!  The instructor made if fun, easy and even after the first class, you walked out of the class with more confidence in knowing the Tarot.  There were even innovative tools that were given to us,  that I had never seen or hear about before!  The class was for the new person and even the 14 year veteran like me. I highly recommend this for anyone wanting to learn more about their own or other people's future. – Michael J. Black, 44, Denver, CO
rochellef@yogaofthemind.com
Classes are held at the Yoga of the Mind classroom
8 East First Avenue, 80203.  At 1st & Broadway above The Hornet Restaurant.