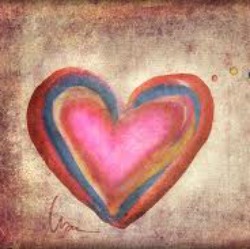 Intuition Inspires Self-Love
Love that we experience with others is governed by the acceptance, appreciation and yes, even Love that we have for ourselves. Being hard on ourselves, finding fault with how we are and feeling like there really is something wrong with us are negative patterns we've all learned in our upbringing and socialization. They often are so deeply ingrained that contemplating an inspirational quote on Facebook is not enough to alter them.
What can we do when we find ourselves in a downward spiral of feeling we are never good enough? First, we can deeply accept ourselves as OK, as we are, including all our bright spots and blemishes. This wave of self-acceptance neutralizes the negative spiral.
The next step is to actively find specifics to appreciate about ourselves and our world. This may feel strange or even fake at first, but if we persist, we will start to glow with self appreciation.
Finally, we can begin to find unshakable self love, self esteem and a positive self image.
This is a more advanced state that won't even seem possible until we transcend the downward spiral through self-acceptance and self-appreciation.
Reading about this is a start, but only a start. What is really necessary is to learn to shift our energy through an inner technology. This learning is the basis for every class we offer at Yoga of the Mind. Many experience it first by getting a Free Energy Healing in which one of our healers helps you shift your energy.
One next step is to take our class; Learn to Trust Your Intuition.  This class teaches you how and why you want to develop your Intuition. For an investment of $10 and 90 minutes, you actually learn an intuitive technique that you can use everyday.
Another next step is to come to our class that teaches you to positively transform your own energy. Be Grounded and Centered is a one session class that teaches you a way to do this in as little as 10 minutes a day.
So in this month of Celebrating Love – consider taking a step that will really help you experience more love in your life with the person you are always with – yourself!
We have lots of fun and empowering Classes coming up in February!
Happy Hour Meditation– On Valentines Day!   $5
We believe meditation should be fun and beneficial.   We never ask you to clear your mind.  Bring your favorite Valentine and reach new levels of bliss.
Taste of Tarot  $20   This is a fun introduction to the Tarot.
In-depth-training on how to read The Tarot Cards  $99  Easy with no memorizing of the card meanings.  Quick and accurate way to learn Tarot Card Reading.
Intuitive Development for Manifesting  $99 Get clear about your core goals.
Clear limiting beliefs that hold you back.  Be ready to receive opportunities that allow your goal to be attained. 
Intuition and Energy Healing 3 session   $279.00  Become neutral, stop over reacting to other people in your life.  Slow down racing thoughts.  Learn to easily here and follow your intuition.
Get your dream business moving now!   $49  Get clarity about your business goal for you personally. Give and receive 100's of new inspiring ideas to get unstuck or started. Next steps to keep your business dream rolling.
Feel Free to Give a David a call with any questions or comment
Contact Phone: 303-668-2358
[huge_it_slider id="3″]
[contact-form to='davidstevens27@gmail.com' subject='Inquiry from web site about Classes on 2-3 email'][contact-field label='Name' type='name' required='1'/][contact-field label='Email' type='email' required='1'/][contact-field label='Comment' type='textarea' required='1'/][/contact-form]