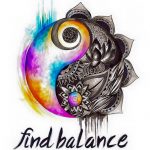 Chakra Cleansing & Energy Healing Services
Enjoy a Free 20 minute Chakra Cleansing and Energy Healing.  Finally, either a group or one on one session will remove stagnant energy and leave you feeling relaxed, light and positive.
"Quantum entanglement occurs when one particle is divided into two, and a distance is created between the two. It is a law of nature that even when physically separated, these two particles will influence each other – instantly."
 What to Expect during a Group Chakra Cleansing 
David Stevens, The Founder of Yoga of the Mind, leads these chakra cleansing and Energy healings using his many years of experience. As a result of David's energy work you will be drawing on Quantum energy during these Chakra Cleansing sessions, each person's natural healing power will be activated. The synergy of everyone doing this together creates a powerful healing vortex that dissolves limitations and opens new possibilities for each participant, according to what they want and need.
Toward the end of the healing, positive energy traits such as peace, confidence, and enthusiasm will be shared with everyone. You don't need any previous knowledge or experience to benefit from these healings, because the healing energy is already inside of you.
Special Healing Requests:
Before the session, each participant will have the opportunity to write down a private request they wish to have healed. David intuitively tailors each session to those present and will include your healing requests during the session.
Group Healing Sessions:
The group Chakra Cleansings are FREE. we accept donations if you are able but not expected.  When Every Tuesday 5:30 – 6:45 pm | The first group session starts at 5:30 pm, with a second session beginning at 6:15 pm Every Second  Sunday Noon-1pm | The first group session starts at noon and the second beginning at 12:34 pm
Paid One on One Healing Sessions also Available:
We will have a limited number of one on one in-person sessions available for you to work with one of our experienced healers, $10 for 15-20 minutes. Our healers are genuinely gifted and worth far more than this modest fee. The time frame is 5:30-6:45 pm. You can just drop-in, but to ensure a session prepay and register below. We accept Cash, Credit Card or Check.
Contact: 303-668-2358 davids@yogaofthemind.com If the RSVP function does not work for you let me know via email which appt. time you would like. rochellef@yogaofthemind.com  

Group Energy Healings, No Registration needed, Drop-ins encouraged. Pre-register for One on One Healings below. 
January 21 @ 5:30 pm
-
5:50 pm
8 E. first Ave, #103
303-668-2358