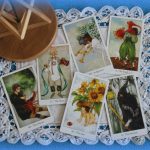 A Taste of Tarot
Reading tarot cards is a fun and fascinating hobby, and it's much easier to do than you might expect. Explore the tarot using a unique reading mat designed by the instructor. No more memorizing the Tarot card meanings.  With this mat, you will be giving fun and insightful readings before the end of class.
This intro class will teach you some tarot basics such as the significance of cards known as the major and minor arcane and how to ask questions to get the best results (yes, it matters!).  Time is set aside in class for you to practice readings. If you decide you love the reading mat, you can purchase it and take home for additional $30. This class is great for beginners as a solid introduction to the cards.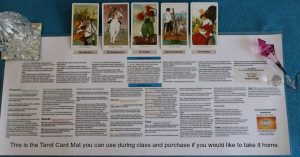 Registration is $20
Use Discount Code "tarot" if you already paid with Living Social or Groupon.
Make sure you have your confirmation when you arrive for class.

[maxbutton id="113″] [maxbutton id="112″]
Rochelle Fisher has studied the tarot for many years, and the reading mat is a distillation of her studies. She created it to help new students of the tarot learn and find success and enjoyment in reading from the get-go. Bring your tarot cards if you'd prefer to use your deck.  Or you can purchase a deck the night of class for additional $20.