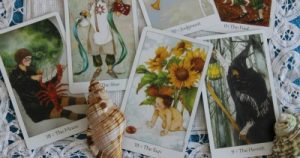 Are you trying to make a choice in your life?   Our readings focus on exploring what your options are. Then we use the Tarot Cards to look at the energy associated with each choice.
This same approach works great in questions related to any relationship.  Intimate, spouses, children,
relatives, supervisors, co-workers, employees and or friends.  Your reading will involve looking at your energy and
the other person energy in the relationship, and what is the best approach that you can take,
based on what you need and the other person needs.
We love working with you on career changes, vacation choices, where to live, etc.
Our style of reading your cards gives specific feed back that supports an actionable step you can take after the reading. Think of our readings as coaching sessions that look at the energy of your life and choices.   Why not choose the options where you are flowing with the energy instead of you going against the flow?
 Get out of an effort in your life and start choosing the options that are in alignment with your soul.
We offer in person readings every Thursday at the Yoga of the Mind Studio at 1st & Broadway from 3-7 pm.
Readings are 25 minutes.  We can cover 2-3 questions depending on complexity
Studio Address: 8 E. First Ave. Denver CO 80203
1st & Broadway entrance is between The Hornet Restaurant & Senior Burritos.
Payment required at the time of booking. 100% refund if you give 12 hour notice for cancellations.
My reading style is to arrive at questions that allow the Tarot Cards to help you make positive choices in your life. I can cover 2-3 questions during a 25-minute session. I have been reading and teaching Tarot Card Reading for 5 years.
Contact Me at: rochellef@yogaofthemind.com  or text 303-549-6502
I have been offering private intuitive readings for 20 years. Utilizing the Tarot Cards is a fun way for me to share wisdom with you regarding your life. I love giving people practical insight to help them make positive decisions and improve their lives.
Contact Me at: davids@yogaofthemind.com | call or text 303-668-2358