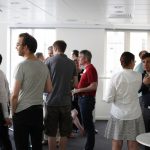 Be a socializing/networking success!   Stop being self-conscious!
Stop feeling awkward during social activities.
Make new friends.
Improve your career opportunities.
[maxbutton id="80″]
Do you avoid social opportunities at work or elsewhere because you just feel anxious about them?  When you do participate you are self-conscious and have no idea what to say? Are you left feeling awkward and out of sync during social and work activities?
If you have mild to moderate anxiety about these situations then this workshop is for you.  Why take this class?  Are you missing out on making new friends and advancing your career by avoiding or performing poorly in social settings.  Leave your self-conscious thoughts at the door because this is your ticket to more success and fun in your life.
I have been in sales my entire life but always under-preformed at networking events.  Why? I was outgoing and liked to talk with people, yet I would freeze at these events.  I was terrible at starting and ending small talk conversations.  I was a stressed out self-conscious person the whole time.  How I have overcome this disability is what this workshop is all about; Using energy tools, blended with cogitative therapy techniques and practical easy to use small talk skills.
We will work in small groups to learn how to overcome our self-conscious feedback loop.  You will learn new skills that will turn anxiety in opportunities.  This workshop will allow you to end your social anxiety and stop missing out on new friends and advancing your career.
Included in the $79 dollar work shop will be a BONUS follow-up private 30 minute phone coaching call with Rochelle Fisher the creator and instructor for this workshop.   I have over 30 years of experience in sales, account management and marketing. I have been teaching people energy self improvement skills as a co-owner at Yoga of the Mind for 10 years. During our 30 minute private BONUS session we can review your experience in the class and we can fine tune your skills.
[maxbutton id="80″]
Sun, January 24, 2016, 10am – 1pm
Second session will be the following Sun. Jan. 31st. same time frame
[maxbutton id="80″]