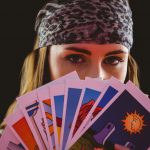 Introduction to Tarot Card Reading
Reading Tarot cards is a fun and fascinating hobby, and it's much easier to do than you might expect. Explore the tarot using a special reading mat designed by instructor, Rochelle Fisher. No more memorizing the Tarot card meanings. With the mat and the techniques learned in class you will be giving fun and insightful readings quickly. This class is great for beginners and a great jumping off point for more in-depth study if you wish to continue.
This Tarot Card intro class will:
Teach you Tarot basics such as the significance of cards known as the major and minor arcane
 Provide guidance on how to ask questions to get the best results (yes, it matters!)
 Allow you to practice readings
You learn how to use my reading mat during the class.  For just $25 you can take a mat home with you.

Recent Review
"Took a tarot card class. Absolutely loved it. Rochelle is wonderful. The class is wonderful.Totally low key but you learn a lot. If you are thinking about taking a class with them – definitely do it!"  Linda
Cost $20
Contact Phone: 303-564-9884
rochellef@yogaofthemind.com
Register for the Date that Works Best for You


July 5 @ 6:30 pm
-
9:00 pm
7653 E 1st Pl
303-564-9884
July 6 @ 10:00 am
-
12:30 pm
8 E. first Ave, #103
303-668-2358